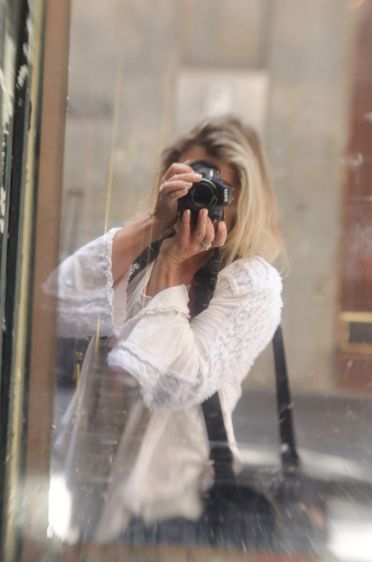 ARTIST STATEMENT "Capturing the story of a place and a unique out of the ordinary context is an affection while my Fine Art visual interpretations are meant to be simple but emotional images that convey a feeling of calmness and serenity. "
NIOBE BURDEN is a visual artist who spends her time between Lake Tahoe, California and Chamonix, France capturing unique perspectives of places and light on landscape.
Primarily self- taught, she has supplemented her practice with commercial studio and location assisting, set preparation and styling, custom "film" lab photo printing, and professional workshops and lectures. She holds a BS in Business from the University of Maine where she grew up.
The compelling beauty of the places Niobe has lived has captivated her since she was young. Growing up on the coast of Maine, she later took advantage of traveling on a shoe string budget to many aesthetically beautiful and culturally rich places in the world. In 1998, she moved to Lake Tahoe, California and since has been sought for her instructional style. "To be a successful artist, you need to be business smart, listen carefully to your clients, and be able to interpret their needs creatively and effectively." Niobe believes finding your true niche is where this comes easy, and equates to doing what you're most passionate about.
Following her husband's employment moves since late 2013, Niobe has had the opportunity to live in Australia , Germany and France which has rekindled her passion to create new collections of work covering her travels for engaging photo narratives. In addition, she privately instructs and has lead photo tours in Munich, Bavaria and now Chamonix, France and the French Alps. Her fine art clientele continue to follow her artistic endeavors.
Clients
Saatchi, Saatchi Drum • Tonopalo Resort • Ritz Carlton Highlands • Hannah & Associates • Sandbox Design • Blase Design • DiNallo Design • Tahoe Quarterly • Smith & Jones • Golfstar Media • Walton Design * Fuji Photo Film USA * The Kauffman Foundation * Womens Wilderness Institute • Tahoe Trips & Trails * Munich Volkshochschule *The North Face * Patagonia * Arc'teryx* Numerous Private Collectors
Awards – Recognition
2018 - International Photography Awards, Events, Traditions, Cultures, Honorable Mention
2008 - International Photography Awards, Fine Art Landscape, Honorable Mention
2008- Nikon Visionary Scholarship, Sante Fe Workshops
2006 – International Photography Awards – Commercial Ad, Honorable Mention
2004 – International Photography Awards , Landscape, Honorable Mention
1995, 1996, 1997 – Fuji Masterpiece Awards, Fuji Photo Film USA
Exhibits and Installations
2016 - Permanent Installation - Tahoe Forest Cancer Center
2011- present - Exhibited at and Represented by Art Obsessions Gallery, Truckee, California
Public Art Installations - 2011, Detours Tahoe City
2014, Metro Gallery, Reno Nevada City Hall
Permanent Installations in Tahoe area - Ritz Carlton Lake Tahoe, Odette Mortgage offices, Sandbox Design, Incline Village Community Hospital, the Discovery Ctr of Tonopalo Resort,
Publications
2008 – Self published Coffee Table Photography Book -"On Waters Edge"
2007-2013 – Juried, "Art of Seeing" Alcove Books
2004 – Selected for Tahoe Quarterly Photo Annual